Details

Category: Uncategorised
Hits: 4433
Portable cabins Lagos Nigeria - Portakabins are portable buildings that have the advantage of being movable or transportable from one location to another.
This fundamental advantage makes portable cabins or prefab metal buildings an indispensable part of our personal and business life.
Unfortunately, there seem to be a dealt of quality information about made in Nigeria prefab cabins and the associated prices on the world wide web.
This section provides solid portable building (or prefab building) information and investment options.
Please note that we are portable prefab cabin builders and manufacturers. And we deliver Portakabins to cities, villages and destinations all over Nigeria.
Therefore, the information we provide here is based on actual practice, not theory.
Bottom line.
Even if you want a beautiful portacabin delivered to your village in the remotest part of Nigeria, we will build the prefab cabin and deliver right on time to your village, your town, or anywhere else you want us to deliver the portable cabins you purchase from us.
Ready?
Here is some basic portakabin information for you.
Remember . . . we are based in Lagos Nigeria but we serve prefab building customers all over Nigeria.
Prefab Cabin Basic Info - Common Sizes
Portakabin values or prices depend on the configuration or plan of the portacabin.
Two portable cabins may look the same on the outside but the number of partitions inside the main structure (including the number of rooms) and the facilities included may result in a sizable price difference.
So, what are the common portakabin sizes?
See the list below:
Category 1: 1.2m by 1.2m (3.9ft x 3.9ft)
Description: Open office prefab cabin with steel structure, suspended ceiling, and electrical wiring
This size of portakabin is ideal for use as point of sale kiosks because their size makes them ideal for use even in small spaces and busy bus stops.
If you're an influential member of your company's marketing team, please recommend this portacabin size for your marketing drive. It is cost-effective and fits into any neighbourhood . . . even in small spaces on busy bus stops and commercial routes where business is brisk and good money can be made.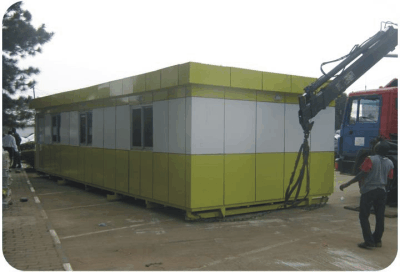 Category 2: 2.4m by 2.4m (7.8ft by 7.8ft)
This is a one-room office cabin and is twice the size of category 1 prefab cabin mentioned above.
If you have a bit more space, this size of portacabins are right for you.
This size of transportable prefab building works pretty well for office use.
Category 3: 3m by 2.4m (9.8ft by 7.8ft)
This size of cabin is slightly bigger that category 2 portacabin above and is suitable for use as office accommodation in small spaces.
This portakabin is small but not too small.
In fact, it is just about the same size as standard rooms in Lagos Nigeria. And it's big enough to take everything you will need in a small office.
Other prefab cabin sizes include:
Category 4: 6m x 2.4m (19.6ft x 7.8ft)
Category 5: 9m x 2.4m (29.5ft x 7.8ft)
Category 6: 12m x 2.4m (39.3ft x 7.8ft)
Portakabin Construction Materials
What are our portacabins made of?
Our transportable cabins and prefab homes consist of the following (just like a regular house):
1. The foundation
2. The structure of the building
3. The walls
4. The roof
5. The ceiling
6. The doors
7. The windows and
8. The electrical installation
9. Air conditioning
So, what are the different aspects of portable cabins (listed above) made of?
Let's shed more light.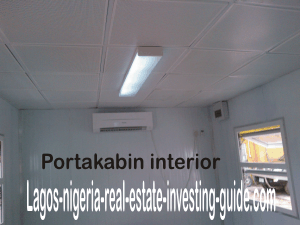 The Foundation: This is constructed from steel and therefore the portacabin can be transported from location to location and as often as the owner pleases.
The Structure: The structure is also made of steel. This is what holds everything together. The walls, roof, and ceilin are all connected to the structure.
This is what mades it a solid building.
The Walls: The walls of our portable cabins or portakabins are built from polyurethane insulated sandwich panels. This ensures good temperature control within the portakabin.
The Roof: The roof can be steel roof or polyurethane insulated sandwich panels . . . your choice.
The Ceiling: The ceiling is built from pvc suspended ceiling boards. Note that portacabins with PU (polyurethane) sandwich panel roof have no need for any ceilings but will we install ceilings if specifically requested by the customer.
The Doors: External doors (doors that open outside) are usually steel doors while internal doors are made of Aluminium. Doors can also be made from polyurethane sandwich panels if requested by the customer (for example, in cold room construction).
The Windows: The windows are usually Aluminium windows
Electrical Installation: We provide full electrical installation that powers all the facilities in the portacabin.
Bottom line.
We build ready to use portable cabins.
When we deliver your portakabin to you (whether residential, commercial or for office use), just move in and starting using it.
Remember that we build prefab buildings and prefab cabins to customers' specifications.
You tell us what you want and we build to your taste.
So, when we deliver our portable office cabins or prefab homes to you, just move in and start using them. Nothing else required.
Ready to own a premium office cabin, portakabin, or prefab home?
Fill the simple form below to request a quote.
Return To Home Page From Portable Cabins Lagos Nigeria
Read more: Portable Cabins Lagos Nigeria - Portakabin Dealer. Prefab Cabin Manufacturer.
Details

Category: Uncategorised
Hits: 4114
---
Eden Trust Limited is trying their best to sell out the land at a very affordable price. The location of the land is very good. The rate at which Arepo axis appreciates is very high, people with foresight sees beyond the physical. For inspection and more details, please call Lola on 08038034077. Limited plots available, invest now and have reasons to smile tomorrow. We offer for sale this very genuine, massive,and money spinning student hostel consisting 41 units of very standard and well finished self contains in a very prime location less than 10 minutes trek away from the school premises. Facilities installed include: water heaters, steady power supply, kitchen cabinets,fully interlocked compound,fully tiled rooms, wardrobe, proper ventilation,security house, compound fully fenced round with gate, good and conducive environment for students' comfort. ... for any of these our advert, kindly contact gain fountain properties on 01-8408800, oladipupo on:08035739361, david on:07085268596, charles on:08187791805, olanike on:07062950320. . we have these following properties both for sale and lease within lagos state, nigeria. lands, (acres, hectares, estatelands,farmlands, plots), houses, duplexes, detached houses, terrace, town houses,block of flats, warehouses, jetty, tankfarm, hotels, filling stations, office space,2-3 bedroom flats, 4/5 ... Very hot in demand...GRA ilorin and roadside Tanke for sale for 16m n 17m respectively...ask swiftman on 08034825408 n 08157719691 Contact swiftman for all your property needs on 08034825408, 0815771969. email:
This email address is being protected from spambots. You need JavaScript enabled to view it.
Acres of land in suburbs of ilorin from N60,000. These are land suitable for farming and any or agro related business. buy and keep kind of investment. ..We tested, trusted and honest professionals on ground to assist in all acquisitions..locations includes ballah, ogele, kammi, pampo, ori eru etc...We can always get in all localities in Kwara state...be it north or south, we are solidly on ground....For more information...Kindly contact swiftman on +2348034825408 or 0815771969, email:... 2 blocks apartments containing a total of 6 bedroom office spaces with additional 2 coffee/tea kitchenettes, available together in this great location on Moor Road, Yaba, Lagos for N1.8ml per annum.Call Chief Ogundipe (PhD) on 08188626603. Front warehouse with toilet available with toilet. Asking price 360,000 Naira. Also available two back warehouses, asking price 350,000 each. Seven rooms upstairs ideal for office space. Each room with restroom. Asking price 1,500,000.00. Only serious renter. Preferably a well organized cooperation. Property is strategically located along Aba Rd. in Umuahia. The land is located in badagry not far from point of no return. we also have one at whispering palms area via aradagun, badagry expressway. The land is suitable for residential and commercial purpose. it has all the necessary tile documents needed. LAND,HOUSE,SPACE,OFFICE,COMMERCIAL PROPERTY,INDUSTRIAL PROPERTY,LANDING ASSET FOR SALE IN ETI OSA LGA,KOSOFE LGA,LAGOS ISLAND LGA,SHOMOLU LGA,ALIMOSHO LGA,AGEGE LGA,AMUWO ODOFIN LGA,OSHODI ISOLO LGA,EJIGBO LGA,APAPA LGA.WE OFFER ALL OUR PROPERTY WITH QUARANTEE.FROM INVOICE TO C of O.TOWN PLANING AND ETC...FOR MORE INFORMATION PLS CALL BIDEXSIMON::08099362659,08175081987,08029805515,08088682664 OR
This email address is being protected from spambots. You need JavaScript enabled to view it.
Details

Written by

Administrator hotelz

Category: Uncategorised
Hits: 3672
Dr Aliyu Wamakko is the deputy president of the Real Estate Developers Association of Nigeria (REDAN). In this interview with Michael Oche, he spoke on several issues bedeviling the housing sector and how they can be tackled
How would you assess the government's quest to achieve housing for all Nigerians?
Read more: Why There Are Many Unoccupied Houses In Abuja – Wamakko
Details

Written by

Administrator hotelz

Category: Uncategorised
Hits: 6102
The No.1 Nigerian real estate and property website with property in Nigeria for sale rent and lease. We offer Nigerian property seekers an easy way to find details of property in Nigeria including homes, houses, lands, shops, office spaces and other commercial properties to buy or rent. Thousands of property listings available. http://www.nigeriapropertycentre.com/ Tue, 28 Apr 2015 09:12:46 +0000 en-gb
Read more: Real Estate & Property in Nigeria for Sale and Rent
Details

Written by

Abiel Balogun

Category: tourism
Hits: 2213
The Nigerian Sovereign Investment Authority (NSIA), managers of the nation's Sovereign Wealth Fund (SWF) has expressed interest in reviving the country's Commodity Exchange, a process which government authorities estimate could cost as much as $20 million.
The government has scheduled the comatose Abuja Securities and Commodity Exchange (ASCE) for privatisation, but the NSIA and industry experts fear that selling the company at its present state would come at a loss, since the assets are almost worthless.
The NSIA's interest is therefore in pre-privatisation investments which would mean fixing the software to drive an efficient trading platform and putting proper processes and procedures in place, till a point that the Exchange can start trading.
The Abuja Securities Commodity Exchange (ASCE) is no longer functional, having stopped trading several years back, but it has up to 60 staff who do nothing but collect salaries at the end of each month, BusinessDay discovered.
NSIA authorities are already in early talks with the government to allow them make that very important pre-privatisation investment and bring the Commodity Exchange to an operational level, in exchange for shares in the company before it is finally privatised.

"The scope of our interest is in what we defined as pre-privatisation investment, which is to revive the Commodity Exchange by investing in the platform and making sure that the systems and processes work, so that people can actually see what the value in the asset is, and then the government can go ahead and privatise the company," Uche Orji, Managing Director, NSIA said in an interview with BusinessDay.
"We have expressed interest to the Bureau for Private Enterprise (BPE) and the former Vice President (Namadi Sambo). We are re-engaging with the government now to drive that plan," he added.
The purpose for which the ASCE was established in 2010 has hardly been achieved because of the dominance of the stock market and Nigeria's attitude towards agriculture. Lack of proper understanding of how the commodity market works has also been been an issue for poor patronage, among other challenges.
Nigerian governments, past and present continue to express commitment to revamp the agricultural sector which is seen as critical to boosting the economy and creating jobs, but there is still the struggle of getting produce to a level where they can trade in a features market and create more income for poor farmers.
But the NSIA has identified agriculture as one of the choicest sectors in which it can invest part of the nation's $1bn Sovereign Wealth Fund because of the sector's capacity to create jobs and boost economic activities.
And according to Orji, the Commodity Exchange is one agriculture sector investments that the NSIA is considering committing part of the $400 million infrastructure component of the nation's SWF. "With a Commodity Exchange, you can have a futures market which allows you to discount future cash flow," he argued. "Hence it reduces cost of borrowing. It is viable in Ethiopia, it should be in Nigeria," he stated.
The Exchange is also one of four government businesses/institutions that the NSIA would be investing in. The NSIA has already made some $10 million investments in the Nigerian Mortgage Refinance Company (NMRC); and is also acting as a co-developer of the nation's Credit Enhancement Facility. It has also invested in the Development Bank of Nigeria (DBN).
Experts believe that reviving the Commodity Exchange is critical, especially at this point that the government thinks it could resort to agriculture, in the face of dwindling oil revenue.
Idris Adamu, CEO, Daura farms, said the ASCE, when put back into business could even serve as a regional commodity exchange, noting that there is now a "race as to who would be the first to establish one, especially in West Africa."
"We cannot have have a credible agricultural sector if our products cannot trade on the Exchange," Adamu observed.
"Ghana is about to set up one, so we have to move really fast with revitalising our own Exchange," he further suggested.
Courtesy: http://businessdayonline.com/
Read more: NSIA moves to revamp Nigeria's comatose Commodity Exchange